Marketplace Events
February School Vacation
February 15 - 19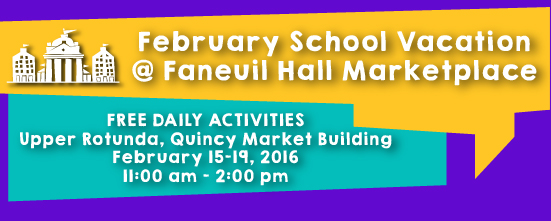 Looking for FREE things to do with the kids during February School Vacation? Come to Faneuil Hall Marketplace! Enjoy FREE programming in the Upper Rotunda inside Quincy Market daily from 11 am - 2 pm.
Monday, 2/15
11-12:30
Puppet Making with Rosalita the puppet
12:30-2
Puppet Making with Rosalita the puppet

Tuesday, 2/16
11-12:30
Story time with Big Joe the Storyteller
12:30-2
Juggling Lessons with Paris the Hip Hop Juggler

Wednesday, 2/17
11-12:30
Meditation for Youngsters with Jason Escape
12:30-2
Malik the Magic Guy

Thursday, 2/18
11-12:30
Arts & Crafts with Shannon
12:30-2
Arts & Crafts with Shannon

Friday, 2/19
11-12:30
Story time with Big Joe the Storyteller
12:30-2
Jojo the Magician



Experience the unique charm of marionettes made by professional actor-puppeteer Charlotte Anne Dore. Enjoy tales of dragons, kings, princesses, mermaids and ghosts who sing and dance -- sure to delight the child in all of us! www.rosalitaspuppets.com

His name is Joe Pagliuca, but you can call him Big Joe! That was the name given to him during his days as a preschool teacher, and it is the same name he now uses as a professional storyteller. Hailed as "One of the best in the business" by the Boston Globe, Big Joe has been delighting children and families in New England and across the country since 1998 with his exciting brand of storytelling! Using a collection of original stories and tales from around the world as well as various props, puppets, and other surprises, Big Joe puts on a show that is unlike anything you have seen. Big Joe can be reached at www.BigJoe.com

Paris, given the nickname "The Hip-Hop Juggler" by Al Roker himself, has been dazzling audiences with his brand of juggling for over a decade. His combination of style, interactive stunts, witty comedy, and world class juggling talent is sure thing to make your event a hit. In addition to bringing his talents to the The Today Show, Sesame Street, and The White House, Paris has also gained critical acclaim for his juggling instruction, teaching at hundreds at conventions, universities, and corporations. www.hiphopjuggler.com

Relax and take an escape: all in your mind. Meditation for Youngsters is intended for children 5-12 and their parents or caretakers. Learn how to meditate with veteran Faneuil Hall street performer Jason Escape. Jason will teach you and your youngsters how to be quiet and still, staying present and peaceful, and having FUN while doing it! Come and take a break with us. www.jasonescape.com

Malik Haddadi is an Award winning entertainer with over 20 years or experience performing comedy magic for for corporate and family audiences audiences. Malik is a full-time professional entertainer, whose vast experience includes performances at civic and public events, birthday parties, company gatherings, and countless other events that demand high caliber family friendly entertainment. http://www.malikthemagicguy.com/

Join Shannon for arts and crafts during February vacation! Create your own winter scene while experimenting with different textures and paint. Just bring your imagination, materials provided!

JoJo The Magician is a 14 year old magician who has been performing magic professionally for 2 years. He has performed over 150 venues. He has donated many shows and has lots of experience performing for all ages. He has proudly been performing all over the Metrowest and is honored to be performing at Faneuil Hall. www.jojothemagician.org/